Welcome to ZooDoo
All our profits go towards Working to Prevent Suicide ~ since 1989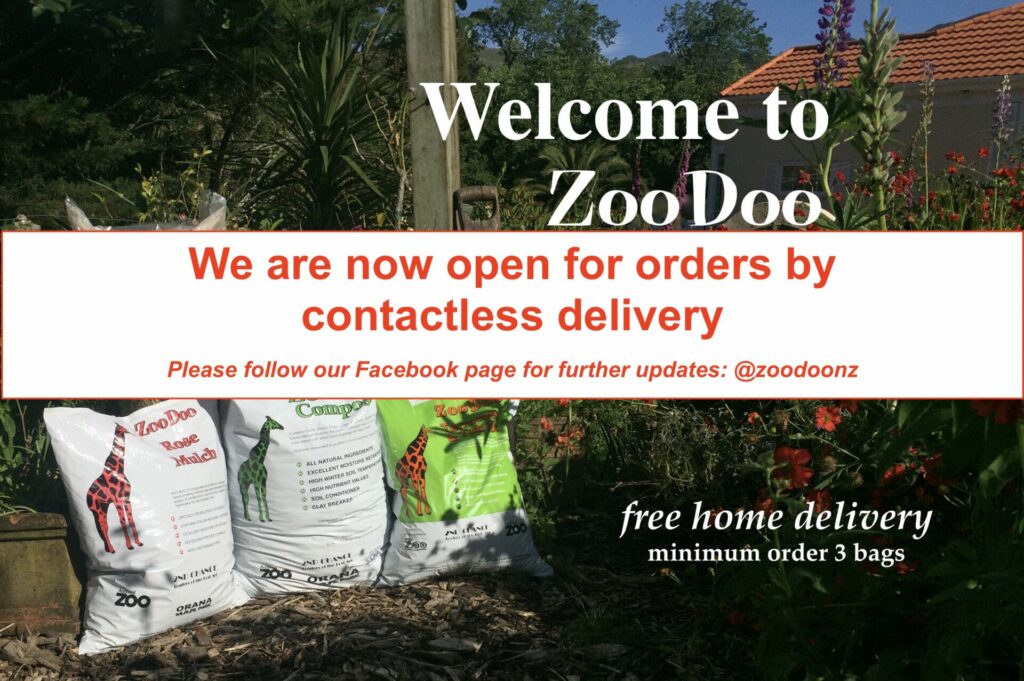 Free Home Delivery (minimum order three bags)
Wellington:

  we are now taking orders for contactless delivery.  We are working at reduced capacity to ensure compliance with social distancing, so there may be some delays getting out your orders and location of delivery needs to be as easy for the driver as possible.
Auckland:

you may see some products limited and occasionally out of stock.  Please return in a few days if an item is out of stock or check out our range for an alternate product.
Please go to our Facebook page for further updates: @zoodoonz
We offer free home delivery on our bagged garden products in Auckland, Wellington and Nelson:
Compost
Terracotta & Tub Mix
Rose Mulch
Bark Nuggets
A Range of Tui Products
Bark Mulch
Topsoil
Pea Straw
Sheep Pellets (DooDrops)
Please see our delivery information for more details.
ZooDoo Gifts, including our Endangered Faeces animals, are available nationwide and courier fees apply. See here for further information.
---
How to Order
Login / Create Account
If you are an existing customer, please sign in with your email and password. This will take you to your own account which lists your address and contact details, delivery instructions and a history of orders made through this website.
If this is your first ZooDoo order, or you haven't logged in since 25 June 2020 (when we moved to a new website) you will need to create an account.
Shop As Guest
If you would prefer to order without creating an account , please shop as a Guest. From the Shop choose your area and add products to the cart. When you go through check out your details won't be kept for repeat orders.
Creating an account makes checkout faster (without having to re-enter your address, contact details and delivery instructions each time you order), allows you to see a complete history of what you've ordered and, if you accept marketing emails from us, we can send you updates on our specials and free products.
If you are Having Trouble ordering
If you think you have filled in all required information and ticked all boxes, but don't seem to be getting anywhere, try emptying your Web Browsers Cache and trying again.
Follow these steps if you use Safari on an iPad or iPhone: